What is Oral Cancer?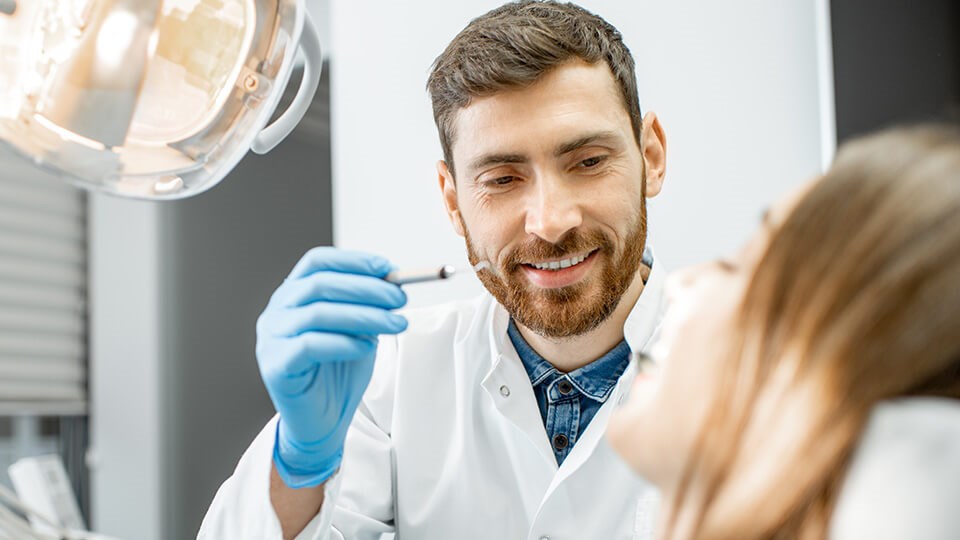 In 2022, approximately 54,000 U.S. residents will be diagnosed with oral cancer. Of these people, just over half will still be around five years from now. This is greater than the rate of deaths in the U.S. from either melanoma or cervical cancer.
Furthermore, the WHO has predicted that this rate will only worsen over the next several decades.
Below, you'll learn how oral cancer is defined, its symptoms and causes, and ways of treating and preventing it.
If you discover something out of the ordinary in your mouth, call us at Patrick Toms, DMD, and set up a visit with a Gainesville, GA dentist.
What's Oral Cancer?
Oral cancer, or mouth cancer, is a broad term referring to any cancer in the mouth or back of the throat. One can develop oral cancers on and under the tongue, on gum tissue, and tissues that line the mouth as well as the back of the throat area.
As cancers go, mouth and oral cancers are among the most dangerous since they're harder to detect on your own and typically require a dentist to identify.
Mouth cancers are one of the issues dental hygienists and dentists look out for while giving routine examinations. This makes scheduling cleanings and exams with your dentist and dental hygienist in Gainesville, GA regularly all the more vital. Left untreated, oral cancers can spread fast to other areas of the body.
As November is when Mouth Cancer Awareness Month occurs, it's a perfect time to examine the various ways to detect, prevent, and treat mouth cancers, including how we at Patrick Toms DMD can aid you in that. Maintain a healthy smile and mouth. Schedule a visit with your dentist and dental hygienist in Gainesville, GA now.
Symptoms of Mouth Cancer
Despite how difficult it may be to detect mouth cancers in their early stages with no dentist's exam, there are nonetheless several things you can watch for between dental appointments to help identify a problem.
These signs include:
Sores or ulcers that fail to heal after a few weeks
Patches of white or red in the mouth
Lumps or inflammation in the mouth, head, or neck area
Scar-like tissue in patches or growths
If you have any concerns regarding your dental health, a good general rule is to get it looked at by your dentist as soon as possible. A vital member of your healthcare team, your dentist can help you determine if there is any true cause for concern.
Causes of Mouth Cancer
While age can increase the risk of mouth cancer, as can certain other physiological factors, up to 90 percent of all cases of oral cancer are connected to lifestyle factors.
Smoking increases your mouth cancer risk tenfold. In fact, out of every three diagnoses of mouth cancer, two are linked directly to smoking. Smokeless and chewing tobacco products have a mixture of toxic elements in their ingredients that can also majorly increase your oral cancer risk.
Also increasing your chances of getting mouth cancer is heavy alcohol use. When this and smoking are combined, it triples those chances.
Besides these lifestyle factors, exposure to the sun can increase your oral cancer risk, as can an unhealthy diet insufficient in vitamins and minerals.
Diagnosing Oral Cancer
Detecting mouth cancer as early as possible is critical since it can spread so fast. Not detecting mouth cancer early enough is the main reason for the high number of deaths from the disease annually, not ineffective treatment.
Many Gainesville, GA dentists perform mouth cancer screenings during routine examinations. An oral cancer screening is painless and doesn't take much time at all. During the screening, your dentist will examine your mouth, lips, neck, and face to detect any signs of mouth cancer. The dentist will also feel the areas around your neck, jawline, and face, and the interior of your lips and cheeks for any lumps.
How Oral Cancer Is Treated
Mouth cancer may seem scary, but, when detected sufficiently early, it can be treated very effectively.
If your Gainesville, GA dentist discovers any abnormalities that may result in a diagnosis of mouth cancer, he or she may give you a referral to a specialist. If oral cancer is discovered early, dentists can typically treat it with surgery or radiation therapy. Mouth cancer treatments frequently involve a complete team of specialists, including your general dentist as well as a maxillofacial or oral surgeon and/or an oncologist. If mouth cancer is diagnosed further along in its progression, a dentist might use a blend of treatments potentially including chemotherapy or radiation therapy.
Another commonly-used treatment for oral cancer is targeted therapy. It is a newer cancer treatment method involving the use of medicines or other compounds to detect cancer cells precisely and kill them.
The treatment option(s) your dentist chooses for your mouth cancer depends on your overall health, where the cancer first began in your mouth, whether it has spread or not, and if a tumor is present, its size and type.
How to Prevent Oral Cancer
Key components of preventing mouth cancer include detecting it early, as well as maintaining a healthier lifestyle, and keeping up with your regular, routine dental checkups.
Also helpful for both your general health and your oral health is eating a balanced diet that includes foods rich in:
Mouth cancers can impact anybody, so it's vital to understand what to look for in between appointments with your dentist.
Keep your smile beautiful and your mouth healthy by scheduling an exam with a dentist in Gainesville, GA right away.
References